QUITE SIMPLY THE PERFECT TREAT FOR YOUR GUESTS
Whether you choose to customize donuts to your wedding theme, or choose from our many popular flavours (Lemon Ricotta, anyone?!), we can add another level of fun on your special day!
Wedding Donuts: A Sweet Celebration of Love
At Maverick's Donuts, we believe that every wedding should be as unique as the love story it celebrates. We're thrilled to introduce our exquisite collection of wedding donuts, offering a delicious twist to your special day. Say goodbye to the traditional wedding cake and hello to a mouthwatering array of custom wedding donuts from our gourmet donut shop.
Custom Wedding Donuts for Your Dream Day
Our custom wedding donuts are a delightful alternative to the traditional wedding cake. Each donut is a canvas for your creativity. Whether you envision a donut tower adorned with beautiful flowers, elegant glazing, or personalized toppers, our donut artisans can bring your vision to life. Your wedding day deserves the sweetest touch, and our custom donuts are the perfect way to make it unforgettable.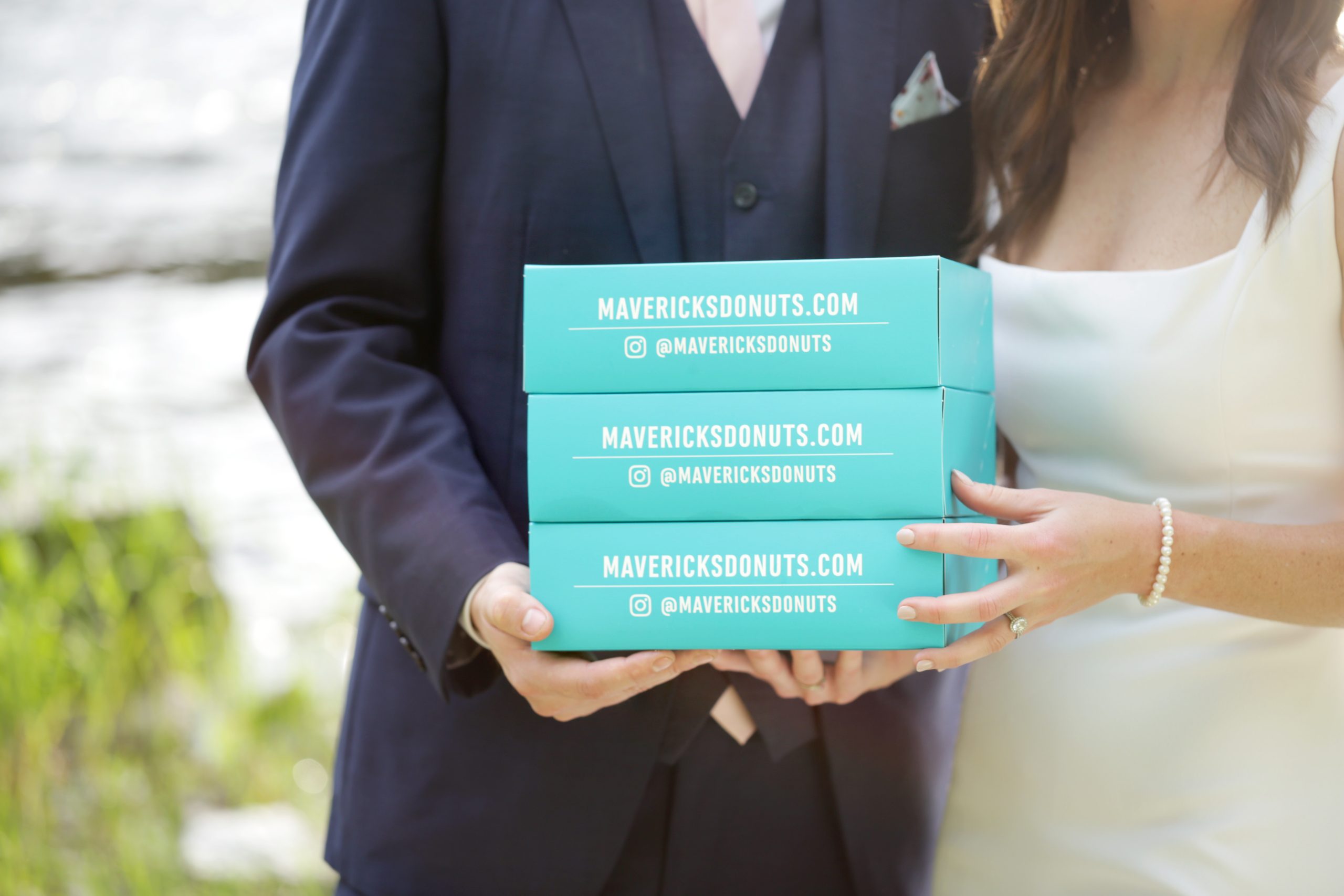 CUSTOM WEDDING DONUTS ARE RIGHT ON TREND!

Ditch the traditional and embrace the trend that is wedding donuts!
Over the last few years, we have created delectable, custom donuts to match just about every wedding theme imaginable.  Whether your wedding design is simple elegance or lavish lux, we can create a donut to match your special day.
Perhaps you aren't interested in custom donuts because you love our donuts, just the way they are?  You are not alone!
With over 15 delicious flavours to choose from and seasonal donut flavours to boot, we are confident that we have the perfect donut to deliciously enhance your perfect day.
Gourmet Donuts That Redefine Delicious
At Maverick's Donuts, we take pride in crafting the best donuts in Ottawa and beyond. Our commitment to quality and taste ensures that every bite is an experience worth savoring. From classic flavors to innovative creations, our gourmet donuts are a delightful treat for your taste buds.
Maverick's Donuts is proud to serve the donut-loving communities of Airdrie, Edmonton, Stony-Plain, and many more. Wherever your wedding takes place, our delectable donuts can be part of your celebration.
Make your wedding day extra special with Maverick's Donuts. Say "I do" to custom wedding donuts that reflect your unique love story. Contact us today to discuss your wedding donut dreams and let us add a touch of sweetness to your memorable day.
REQUEST A QUOTE FOR WEDDING DONUTS!
Contact us today by completing the form below, and a representative from your chosen location will reach out to discuss your wedding and provide you with a quote!